With the British elections now over, and with Brexit negotiations about to start, the first screening of Life on the Douro in five years on June 12 is a timely lesson in the complexities of international trade and treaties.
As a consequence of its wars with France, Britain began to source some of its wines from the Douro region in Portugal. Brandy was added to preserve it on the long sea voyage, and Port wine began to develop into the drink we know and love today.
Initially, the demand caused a decline in the quality of wine produced. Then, an earthquake devastated  Lisbon in 1755, and in order to raise money to rebuild it, the Portuguese decreed that Douro wine could only be exported through Vila Nova de Gaia, opposite Oporto, so that the quality and production could be regulated and taxed. That meant, however, that only a handful of enterprises that were able to afford warehouses and large scale operations were able to produce Port, and it stayed that way for two centuries.
When Portugal joined the EU in 1986, the latter decreed that it amounted to a monopoly and that smaller wineries in the Douro Valley could also produce and export their Port, allowing for a rejuvenation of the region.
Just as international trade has maintained Douro wine production, Rococo Chocolates sources its cocoa from the Grenada Chocolate Company and the The Grenada Organic Cocoa Farmers' Cooperative, with the growers and chocolate makers being equally and well rewarded. In turn, young people are being attracted back onto the land and processing the organic cocoa on the island maximises the value that can be put directly back into the Grenadian economy and is used to develop the infrastructure.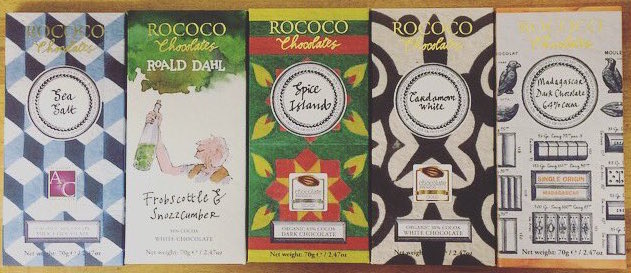 Sustainability is a vastly complex issue, and every purchase is a vote for one type of production or another. Besides getting Port and Chocolate worth more than the ticket price, part of the ticket goes to those smaller producers in Portugal and Grenada, and thus their respective rural communities and way of life.
On June 12, Life on the Douro, my documentary about the 300 year history of the Port producing region in Portugal, will be screened in four parts, with a different Quevedo Port Wine and matching Rococo Chocolates served during each part at Gallery Different, 14 Percy Street, London W1T 1DR. Info and tickets here –
https://www.eventbrite.co.uk/e/life-on-the-douro-port-and-chocolate-tickets-34286663333
Most of the ticket price goes to support the chocolate growers and the smaller Quevedo Winery. My intention, too, is to produce a video about Rococo Chocolates that would be screened at future events, bringing into profile the issues, once again, of how fair trade can have a positive effect on people's lives. Chantal Coady https://www.rococochocolates.com/pages/all-about-chantal who founded Rococo Chocolates, will be on hand to explain the chocolates and the work that they are doing.
A good turn out on June 12 would do a lot to move things forward. Life on the Douro took me about a year to complete over a period of three years, with the three trailers above giving a glimpse into how it developed and expanded. It never got the audience it should have had but it's never too late, and hopefully this mix of social history, Port and chocolate will bring it better fortunes in the near future.
Here are the Rococo Chocolates tasting notes, not to be missed, each with a matching Quevedo Port:
Madagascar 64% Cocoa Single Origin Dark Chocolate Bar – This chocolate has the unmistakable hallmarks of Madagascan criollo cocoa, tons of red fruit, citrus, great balance and long finish. The Pinot Noir of the chocolate world. One of the all time favourites!
Cardamom Organic White Chocolate Artisan Bar – Memories from my childhood, the wonderfully aromatic, sweetly spiced cardamom is slowly released from the grasp of the cocoa: a beautifully balanced Rococo Classic – keeps winning awards.
Spice Island Organic Dark Chocolate Artisan Bar – This is a tribute to the Grenada Chocolate Company and the island's famous spices. We received the 2014 Ruby Award 'For outstanding contribution to Business Development to the benefit of Grenada'.
Roald Dahl: Frobscottle & Snozzcumber White Chocolate Bar – Fresh green and pink phizzwhizzing colours and flavours in this cocktail of raspberry, strawberry, cucumber and mint.
Sea Salt Organic Milk Chocolate Artisan Bar – Inspired walking on a Cornish beach, grains of sea salt caught on my lips mingled with clotted cream ice cream! The salt crystals highlight the caramel notes in the milk chocolate.